Horse Transformation Comic
That's Transformation! TF's in Commercially-Produced Entertainment. Unlike us, there are actually people out there making money depicting and dramatizing human-into-animal transformations! Commercially released books, stories, even movies, TV shows and ads all explore this fundamental fantasy we can't get enough of. 22 Different transformation artists drew a five -page transformation sequence of a person changed into a human-faced female creature (the transformation segment of the contest). The character I chose, Satine, is based off of my wife, Kamiki's, horse/soquili character by the same name who made an excellent model (and I got to design a human. 'The Starlet' Explore Hollywood's darkest secret.
Unlike us, there are actually people out theremaking money depicting and dramatizing
human-into-animal transformations!
Commercially released books, stories, even movies, TV shows and ads
all explore this fundamental fantasy we can't get enough of.
Who knows, perhaps the creators of these works are under Circe's influence as well,
helping to spread word of her metamorphic pleasures far and wide;
Circe's Funhouse is proud to present a few samples of their work...
(Please note: all works are © their respective owners)
Let's start with some highbrow, snooty grand opera:

High Culture:
Grand Opera
'Alcina: She Turns Men Into Beasts'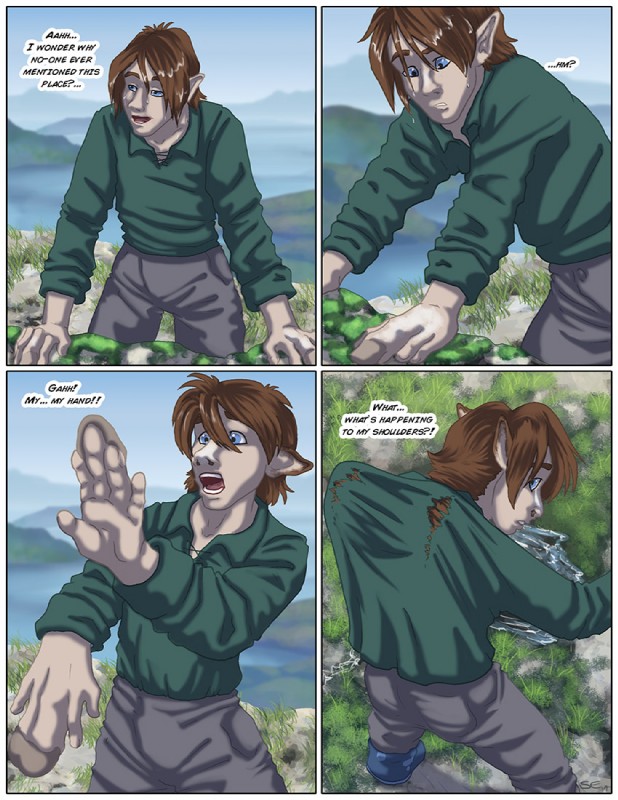 Modern Dance
'Circe' (Martha Graham Dance Company)
Ballet
'A Midsummer Night's Dream'
Thanks to Oliver for sending this one my way - Bottom sure looks like he's enjoying himself!
Movies/TV:
'Pinocchio' (Live Action 1996)
(My first attempt at building a page of frame grabs, by the way)
Concept sketches for the movie's TF
Sent in by a Funhouse fan... Like the Spirited Away art linked to below, some great concepts that unfortunately didn't make it into the movie.

Animation:
'Brother Bear'

Yet another Disney TF flick!
Nicer, bigger version of above picture ('Ohmigod - I'm a bear!')
Disney's official movie webpage
The Simpsons visit 'The Island of Dr. Hibbert'
(Is there a fur/TF fan working on this show?)
(from the 2002 Halloween special; thanks to whomever posted these frame-captures on their website,
and my apologies for losing track of your information)
Family Portrait
Vacation Snapshots - Page 1
Vacation Snapshots - Page 2
Vacation Snapshots - Page 3
'Spirited Away' (or, 'Pigged Out')
Pencil drawings from a recent release

Adult Books:
[in the mature, not pornographic sense, you pervert]

'Carmen Dog'
Women turning into animals? Animals turning into women? Read all about it...
'The Sub' (another book review)
'Pig Tales'
Cover close-up
Full cover

Children's Books:
'Is That You, George?'
[From the book's amazon.com page:] 'After spending the day in bed with a cold, listening to stories of the North Pole, George is somewhat perturbed to awake the next day having metamorphosed into a polar bear. This colour picture book -illustrated by the author - follows George as he copes with everyday life as a polar bear.'
'Winni Allfours'
[From the book's amazon.com page:] 'Winni adores ponies and pleads with her mum and dad to buy her one. The dinner lady at school puts an idea into Winni's head when she says that if she keeps on eating so many carrots, she'll turn into a horse. Winni decides to test this theory out, and sure enough it works. '
Winni's Transformation!
Courtesy of the fabulous 'Destrier,' here's Winni's human-equine TF!
'How to be a Dragon... Without Burning Your Tongue'
[From the book's amazon.com page:] 'How would it feel to be turning into a dragon, scale by scale, fang by fang, claw by claw? Rozzie Banks is about to find out. She is transported into a difficult new world, living with her estranged father in an isolated Nevada mining community. Rozzie despises her new life until, one day, inside a mountain cavern, she meets a shadowy dragon. Touching a mysterious teardrop, she begins her transformation into a dragon herself.'
I'm reading this one right now, have to admit I'm finding it a little slow going....
Not Just A Witch
[From the book's amazon.com page:] 'After 30 years at witch school, best friends Heckie and Dora plan to settle down in a small town, Do Good, and make the world a better place...Heckie uses her power to turn humans into animals to rid the town of wicked people and supplement the animal population of the local zoo. However, her plans begin to go awry when she meets a slick furrier who wants to exploit her talents to obtain rare snow leopard pelts....'
'The Dog Days of Arthur Cane'
It seems to be a perennial TF story: a human is transformed into a dog (or other animal) in order to learn a valuable life lesson or two. Here's a book cover featuring a very nice TF sequence from one such effort, dating from 1977.
'Hey Al'
A Caldecott Medal-winning kids' book by Arthur Yorinks & Richard Egielski tells the story of humble janitor Al and faithful dog Eddie who are whisked off to an island-in-the sky paradise (obviously part of the Funhouse!), where a feathery surprise awaits them...
'What a life,' Al cooed.'
'But ripe fruit soon spoils.'
'Take us back, take us back!'
'Swan Lake '
Illustrated, children's book version of the famous Tchaikovsky TF ballet
Book review with illustration
'The Chronicles of Narnia'
(illustrated by Pauline Baynes)
Eustace (from Voyage of the Dawn-Treader)
Rabadash (from The Horse and His Boy)
'Goosebumps'
Cover illustration
'The Devil's Donkey'
Old cover
Recent edition
'Donkey Cabbage'
Illustration from a story in The Yellow Fairy Book (1894)
'Mike and the Magic Cookies'
Cover
Spread #1
Spread #2
Spread #3
Spread #4
Spread #5
Spread #6
Comics:

'Hi-fi' fan prefers his woofers over his tweeters
(from a 1950's Mad Magazine - who even knows woofers from tweeters any more?)
Wonder Woman goes ape!
(from the 'Monkey Business' Google group (which looks to be offline at the moment...)

Superman goes scaly - opening page
Transformation pages
Captain America goes furry:
(thank you, Lynx!)
The Cover
TF Sequence
Ta-daa!
Live, from Brazil - it's 'Aninha'!
A friend sent me a bag o'comix from Brazil; needless to say, the following story caught my eye (anyone know Portuguese?):
The Cover/Page 3
Pages 4/5
Pages 6/7
Pages 8/9
Pages 10/11
Page 12
Bloom Country (circa 1992)
Dilbert (circa November 2002)
Ulysses meets Circe (& she's in a bad mood...)
A 'Silver Age' comic book cover
Interior panels
Advertising:

Chef Boy-Ar-Dee - yum, yum, roarr!
Something to chew on...

A record album
Drink this beer - quick!

Girl To Horse Transformation Comic
Welcome to my Spells R Us Archive. back in '97 when I first popped on the Internet, I came across one of the Transformation Story Archives, in fact it was The Transformation Archive run by Thomas Hassan. As I was reading the changed sex stories, on down to the Mythological stories, I chanced on at the time, a rather small selection of Spells R Us. Spells R Us was started with the story Strangeness at The Frat House written by Bill Hart. What drew me to the Universe was the fact that it had everything I was looking for in one universe. Transgender, age Regression, and every other Transformation concievable. Eventually other talented writers added to the universe eventually prompting me to write my own SRU story which is listed in the Archive below. My goal now is to collect as many SRU stories as the writers allow me, or until I run out of space and keep them here for all to enjoy. Now.. Welcome to my Archive....
Brief key on stories
TG-TransGender
TF-Transformation-Furry/Creature
AR-Age Regression
Horse Transformation Comic
AP-Age Progression
IT-Inanimate Transformation
A Strangeness at The Sorority House By Bill Hart TG,TF
Human To Horse Transformation Comic
A Friend in Need By Bill Hart TG
Aftermath By Morpheus TG
Anniversary Gift by Morpheus TG
Another Friend in Need By Bill Hart TG
Bad Girl By Morpheus
Beauty Wash By Morpheus TG
Best Friends By Bill Hart TG
Bottle of Wishes By Morpheus TG
Circe's Wand By Morpheus TF
Collars By James S. Cole TF
Costume Box By Steve Zink TG
Curse Box By Morpheus TG,AR IT
Dennis the Menance By Morpheus TG,AR AP
Family Squabble By Morpheus TG
Feminine Mystique By Morpheus TG
Friends are thicker than wishes By Bill Hart ***The 2 Year SRU Anniversary Story.*** TG
Gang Banger's A SRU Tale By Carolyn Collins TG
Going Through Changes By Morpheus TG,AR,TF
Good Wife's Guide By Darkside TG hinted at
Halloween Party By Bill Hart TG
Heart's Desire By Bill Hart TF
Hiss By Morpheus TF
In The Belly of the Beast By XoYo IT
Pick a Card By Brandy Dewinter TG
Potion Number 6 By Bill Hart TG
Power Struggle By Morpheus TG
Ranma By Morpheus TG
Replacement Wanted By Bill Hart TG,AR
Spells R Us Thriftstore Purchases By Thomas Silver TG
Student Exchange By Bill Hart TG,AR,AP IT
The Bimboizer By Morpheus TG
The Game By Morpheus TG,TF,AR, IT
The Dance by Hawkyn TG
The Doll By Morpheus TG
The Magician's Apprentice By Bill Hart TG
The More Things Change... By Morpheus TG
The Vacation By Morpheus TG
Time Flies By Morpheus AR AP
Turnabout By Morpheus TG
UnReally Real By Ran Dandell TG/TF
Wizard's College Days By Eric TG
You Are What You Eat By Morpheus TG

This Transformation Ring site owned by Thomas Silver.
[ Previous 5 Sites Previous Next Next 5 Sites Random Site List Sites ]